March 2009 E-newsletter
In this issue: There's Still Reason to March Against the War and How Do We Create Change Within Our Movements? Family, Community and Sexuality Project Releases "Uniting Communities"
Dear Friend,
We're halfway through the first 100 days of the Obama presidency, and there are as many reasons as ever for us to stay active and engaged on the issues we care about. This month we're covering the big anti-war mobilization this weekend marking the sixth anniversary of the start of the Iraq war, and releasing the summary of our 2008 work on uniting communities.

Enjoy,
Dan Petegorsky,
Executive Director


There's Still Reason to March Against the War

This month marks the sixth anniversary of the invasion of Iraq, and the beginning of our seventh year of occupation there. Although President Obama has announced a timeline for reducing U.S. troops in Iraq, he is proposing sending more troops to Afghanistan. Rather than see our troops come home, we may simply see them move from one front to another. For people who want to see an end to these foreign wars, dozens of groups are working together to organize Oregon's largest anti-war events of the year in Salem this Sunday and Monday. Read more about this weekend's events...
How Do We Create Change Within Our Movements? Family, Community and Sexuality Project Releases "Uniting Communities"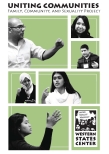 The Center's Family, Community and Sexuality project has just released Uniting Communities, a summary of the work with grassroots groups in 2008 (PDF) to overcome barriers and move beyond the places where homophobia and racism overlap to keep communities isolated rather than united.
In early 2008, faced with the likelihood that an anti-gay-marriage initiative was going to wind up on the Oregon ballot (it did not), we wanted to work proactively to avoid the kinds of splits among allies in the LGBTQ community and communities of color that we saw during the Measure 36 campaign. (We've recently seen this again in the wake of Proposition 8 in California.) We partnered with groups based in communities of color who did not have a focus on lesbian/gay/bisexual/trans/queer people or issues (LGBTQ), but were interested in being inclusive.
The Family, Community and Sexuality project brought these grassroots groups together with LGBTQ groups, and Uniting Communities explains the strategies they used to become more inclusive of LGBTQ people, along with some concrete results participating groups can point to from their work with the project.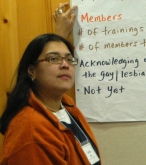 In Uniting Communities, groups share reflections on how the program has changed their work around homophobia and gender bias in five key areas:
The people involved in the organization
Their programs
Their policies
Their organizational culture
The power balance within the organization
This quick must-read shows how change is possible within our own organizations. Although the Family, Community and Sexuality Project worked with a small range of groups, it was a dynamic success – one that we hope can become a model for others to replicate. For more information about the project and how your organization can become more inclusive of GLBTQ people and issues, contact Kalpana Krishnamurthy.
_____________________
Mark Your Calendars for CSTI:
July 31-August 2, 2009
Reed College, Portland, OR

Western States Center Needs You!
Building long-term strategies for progressive social change requires resources. Together, we know that we can make a difference. There are several ways you can help Western States Center. Find out today!
Document Actions